Planning your website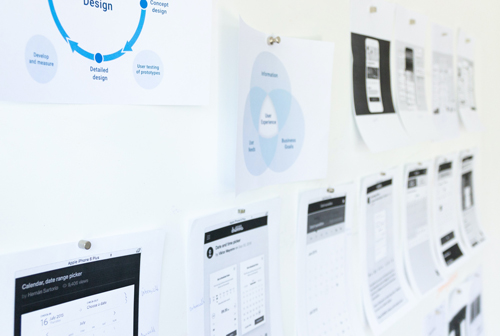 Like any marketing tool, a website needs to have clear objectives before anyone can start putting a design together.
The possibilities are endless. You wouldn't ask a builder to lay foundations for a house without giving them a plan to work to - and the process of creating a website is no different.
An experienced designer can make a website look stunning but after that initial impact it is just as vital to guide your potential customer on a critical journey - presenting them with key information, showing that you can support their needs, and providing them with the means to enquire or place an order.
So it's important to spend some time thinking about your end goals before you brief a web designer.
Start out with what you want to achieve with your online presence. Is it just a "brochure" site to give an overview to your service and encourage enquiries? Or do you want to sell products directly via the internet? This can make a vast difference to the initial approach and the overall cost but bear in mind that, with a bespoke website, you can often start with a basic "Mark 1" option and scale it up as your business grows.
Here are some of the main considerations:
Branding
Do you have an existing corporate identity (or even guidelines) for the designer to follow? Your website needs to look like an integrated part of your marketing collateral - that includes everything from colour schemes to fonts. Alternatively, this might be the opportunity to create a brand new look for your business - a chance to launch your new brand and website at the same time.
Tone of voice
It's vital to gain the trust of your target audience. The language you use to engage with your customers matters and it can differ greatly depending on the market and demographic you are hoping to connect with. Bear this in mind when writing or commissioning the text content.
Style
Again, this needs to be appropriate to your type of business and potential market. Should the site look clean and highly technical or do you want a softer, more casual feel?
Key messages
Think about what you want to say to a customer in those critical first few seconds - tell them who you are, what you do, and show them how well you do it. Whether viewers are on desktop or mobile, the top part of any website is considered primary real estate - so ensure it is used effectively to inform the visitor and promote your main services. Sliding images (carousels) or video can be used to convey multiple product areas and current offers in a very short space of time without the viewer needing to navigate around the site.
Make sure the user journey has been considered… how do you want them to get from A to B without it being cumbersome? Think about ways you can either help the customer narrow down their options to find the best solution for their needs or make it easy for them to contact you quickly to discuss the options available. Clearly label the call to actions and use consistency across buttons so that visitors can intuitively find their way to precisely the information they are looking for.
Photography
To make your claims believable, it really helps if customers can see what you do. Professional, high quality images bring a website to life and help the reader to digest information - allow pictures to tell your story. With modern screens and the trend for large or full width images, you'll need to use pictures of the best possible image size and resolution. It's often worth organising photography as one of the first stages of commissioning a website to avoid delays later on.
Content is vital
Finally - and we can't emphasise this enough - if you want the right audience for the products and services you offer it is paramount that you provide as much relevant, keyword-rich (ie the items that your customers will search for) content as possible. Assume the average visitor has a short span of attention - so group information in to bitesize chunks with clear headings. Use plain language so that you can talk to everyone from a novice to a seasoned expert in your field.
A good website designer will know how to structure the page so that keywords appear in the main headings and get picked up by search engines.
Ok - we know it's a lot to think about but, if your head is spinning, just talk to one of our web designers and we'll guide you through the whole process - now does that sound like a plan?
Back to blog